Sahari Tsuzure brocades, developed by textile artist Sadao Ikeguchi in Nishijin, Kyoto, can produce a variety of effects, appearing subdued in natural light yet, when seen under indoor lighting, give off an inner brilliance. The fact that the colors change according to the lighting angle, producing an aurora-like brilliance is its greatest feature. These textiles are not just gold and silver threads woven together, but brocades that can produce unique brilliance from the depth of the weaving, depending on the movements of the wearer and lighting conditions.
Taking a hint from how diamonds are cut using techniques to shine under subtle lighting, Sadao Ikeguchi has developed several weaving techniques and has obtained 12 technical patents in the 40-year history of the company.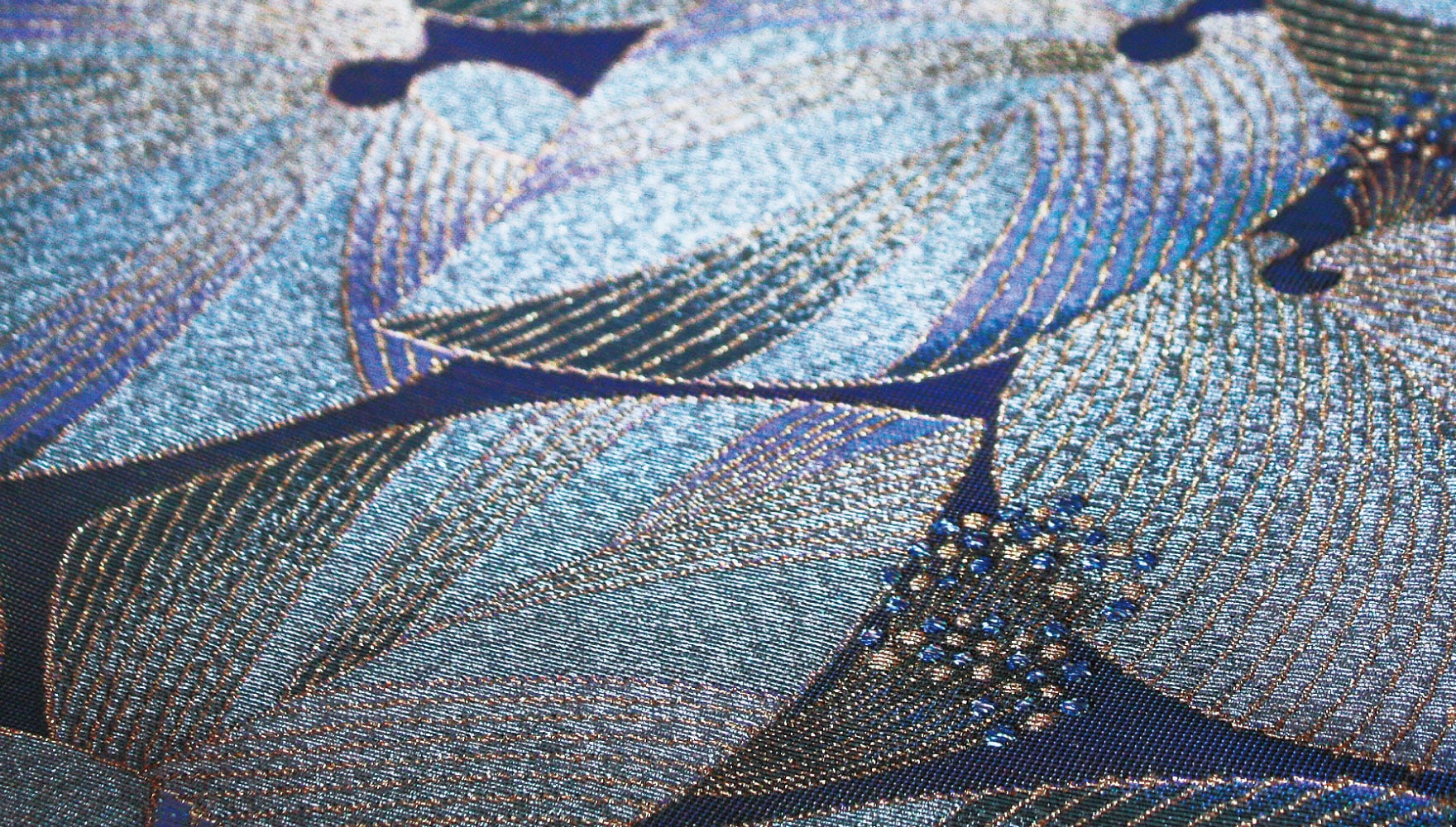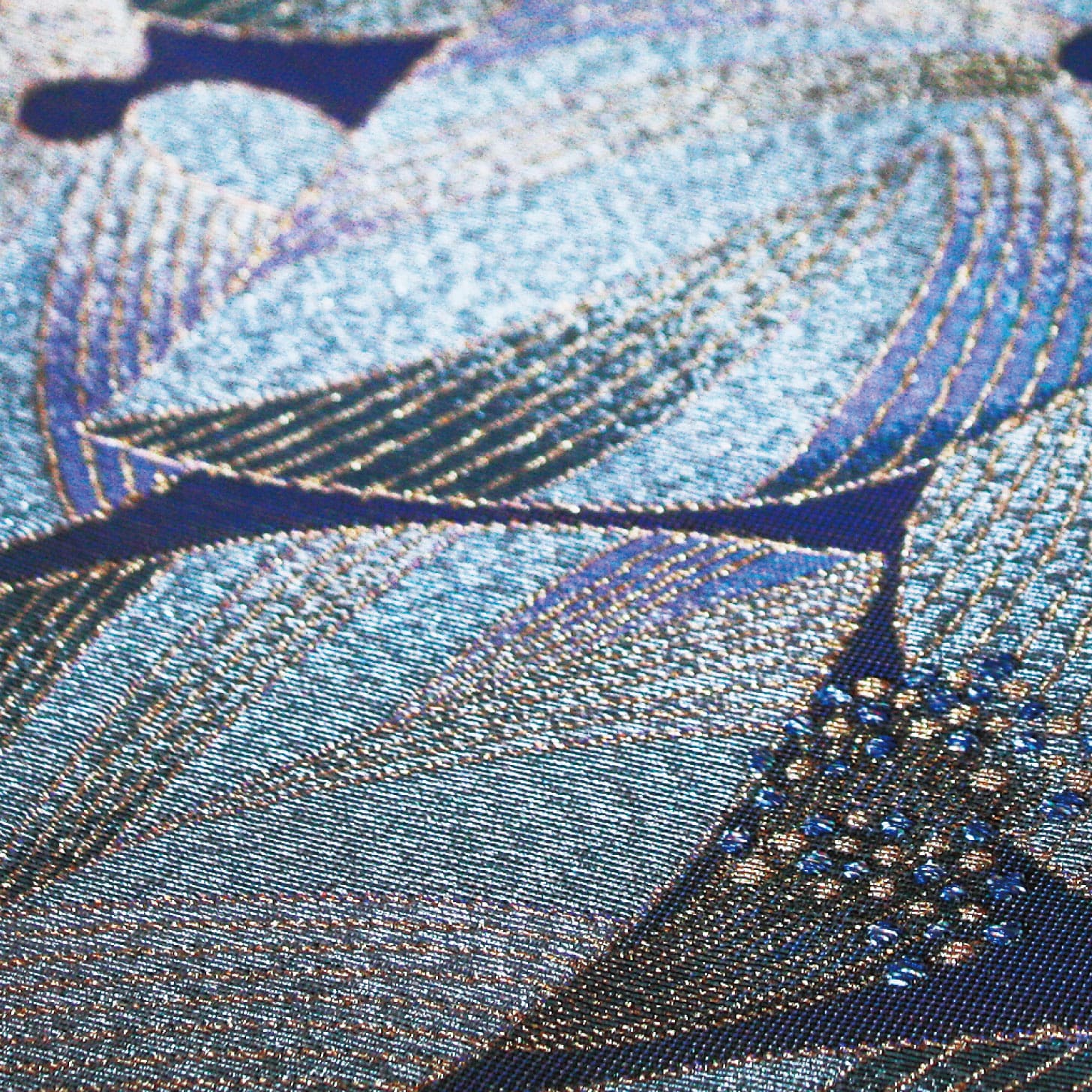 List of Obtained Patents
A weaving method that produces an unevenness on the tsuzure obi surface/Woven textiles that have patterns that can change/Production method for hogushi-ori textile/Weaving method to increase the brilliance of a textile depending on the angle of light/A woven Nagoya obi that you can use in several ways/An obi that changes color depending on the viewing angle/Materials for decoration/Woven textiles that contain hidden patterns/Woven textiles that create a three-dimensional effect/Girogisha-ori textiles/Woven textiles that contain shadow patterns/Ornamental obi
A Weaving Technique to Create Color Change According to Angle
Similar to how a variety of colors can be created from the three primary colors of red, blue, and yellow, Ikeguchi developed techniques to create a change of color in textiles according to the viewing angle.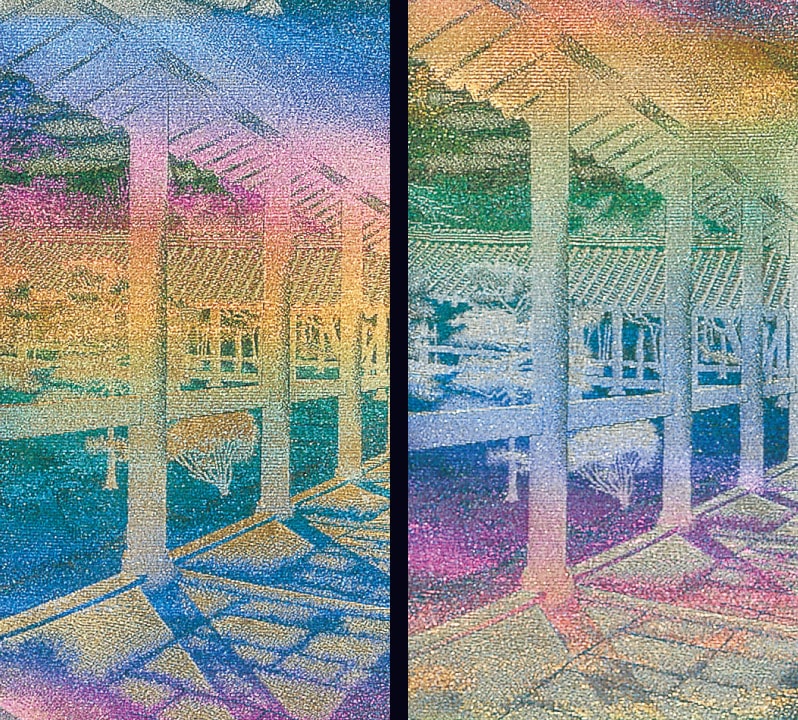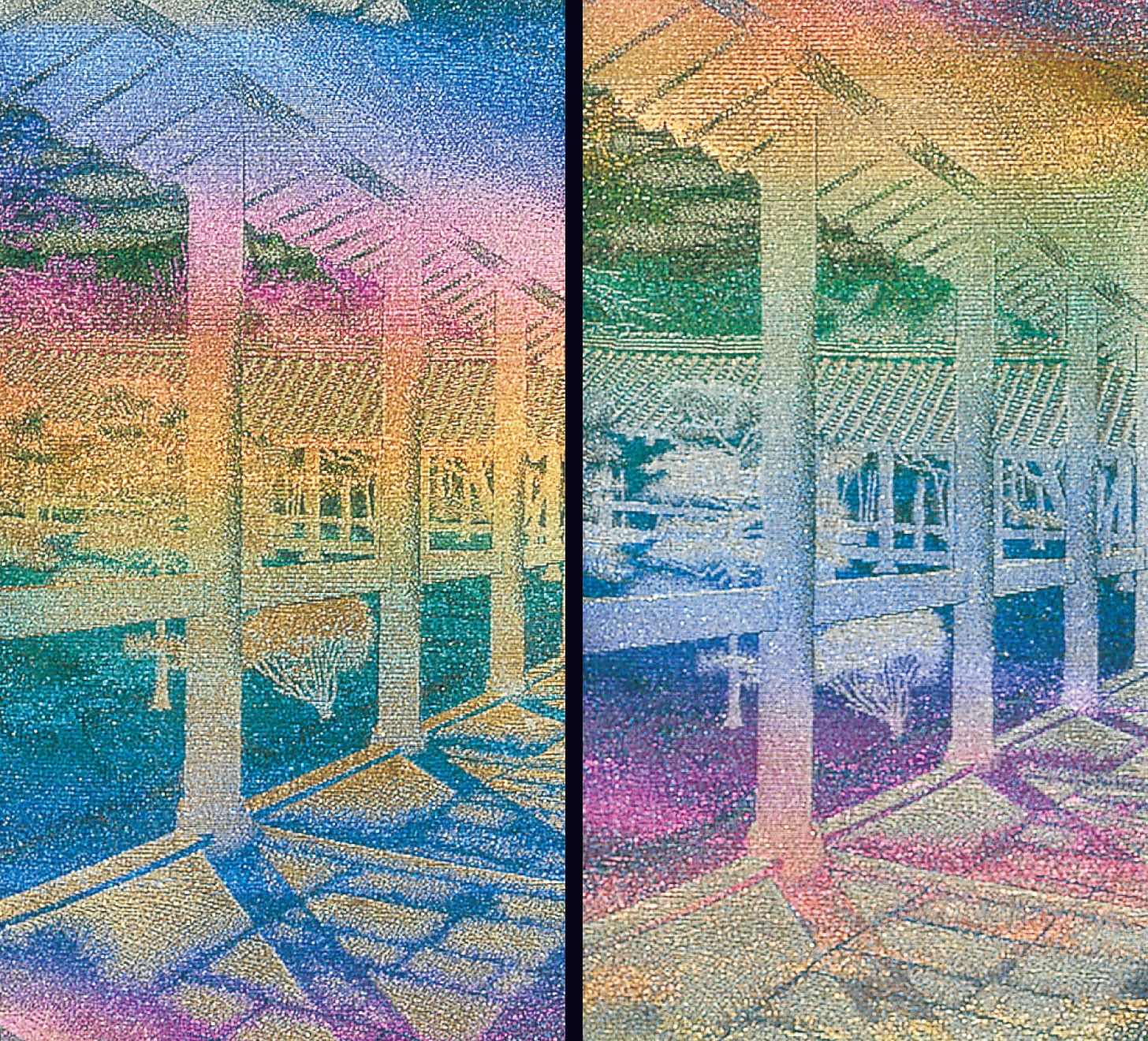 A Weaving Technique That Reflects the Kimono Color
A weaving technique that reflects the color of the kimono on the obi by using foil that takes in the surrounding colors like a mirror for one-third to a half of the ground weave. Since the coloring changes depending on the ground color of the kimono, you will not have difficulties to match it with your kimono.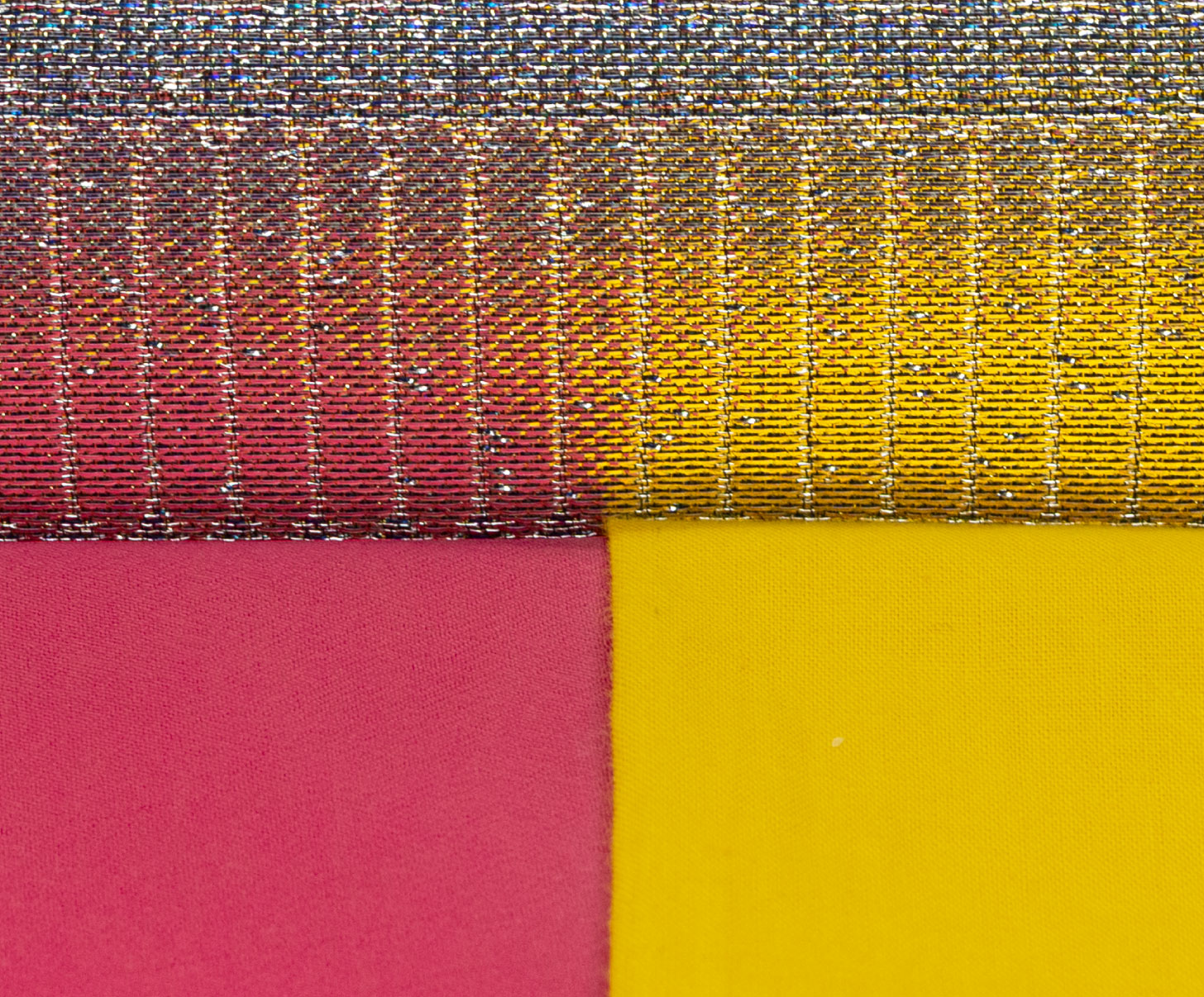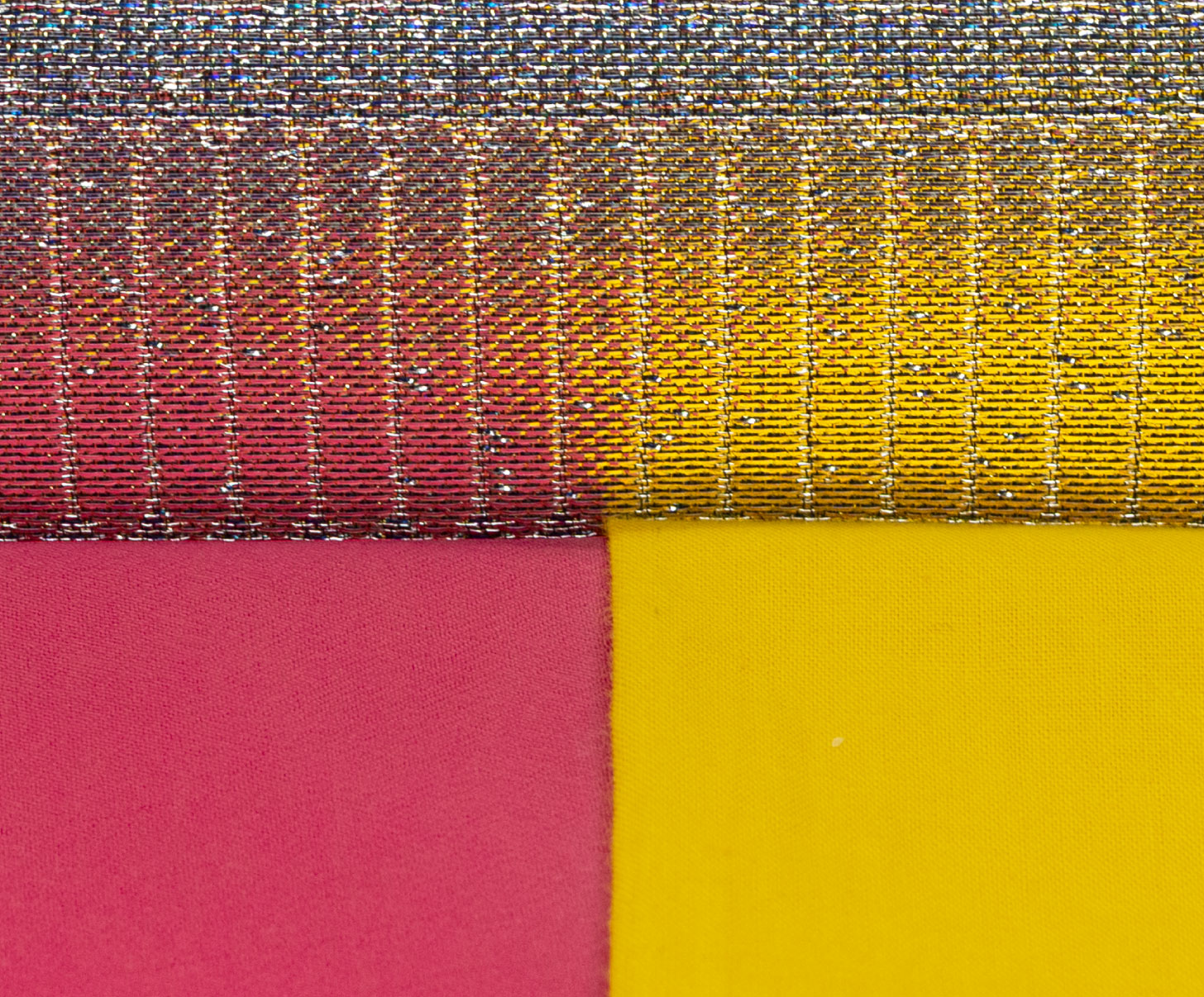 Until Sahari Tsuzure Brocade was born, woven textiles could only express two-dimensional patterns with beauty and precision. With Sahari Tsuzure Brocade techniques, it is now possible to produce "blurring," expressing elements which have up to now been difficult such as water, flames, sky, and wind, as well as weave real scenery using perspective to create painting-like effects.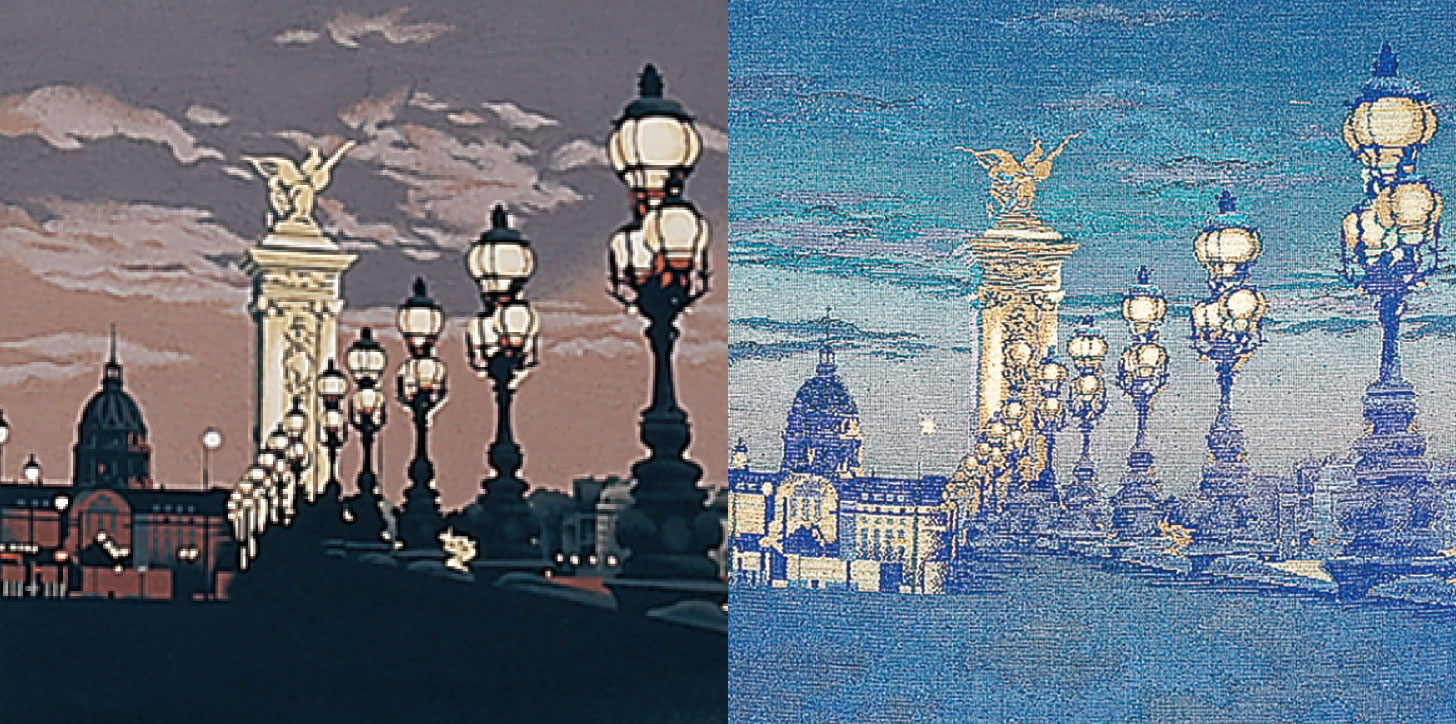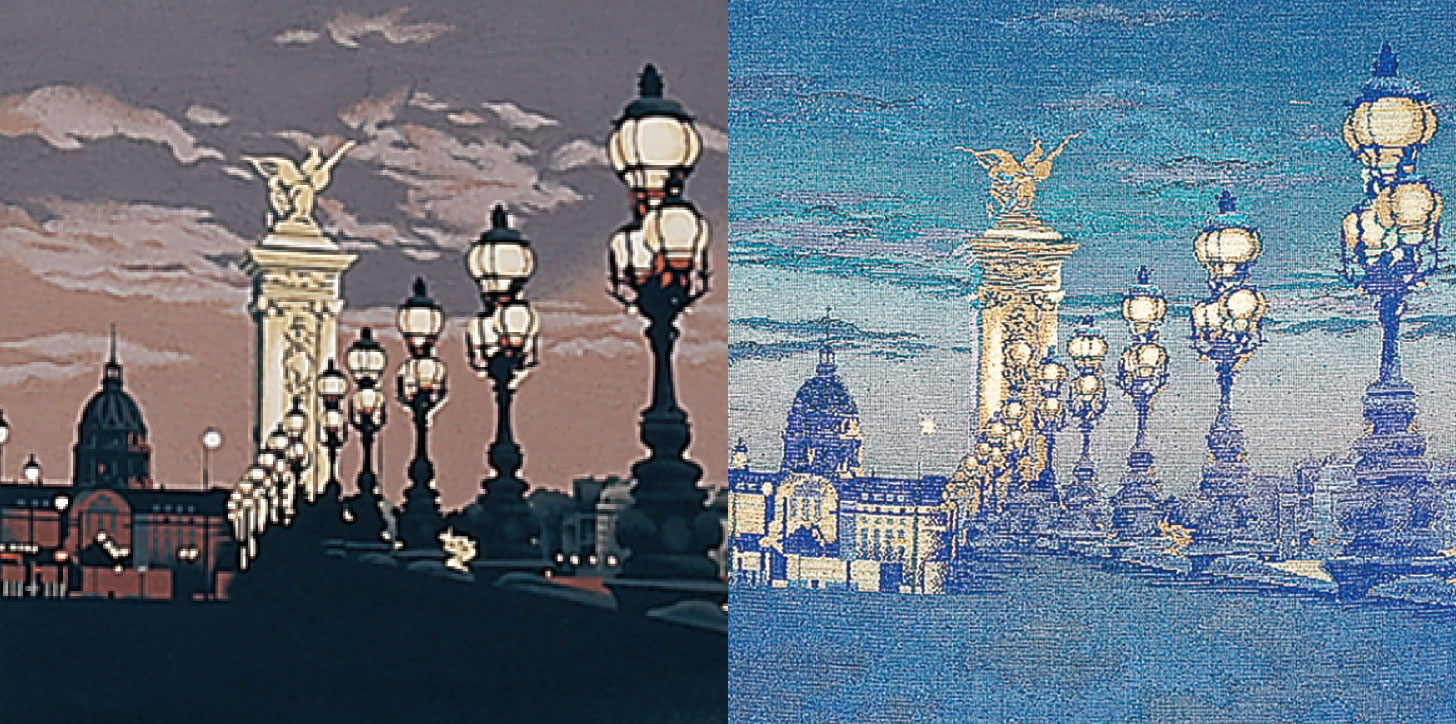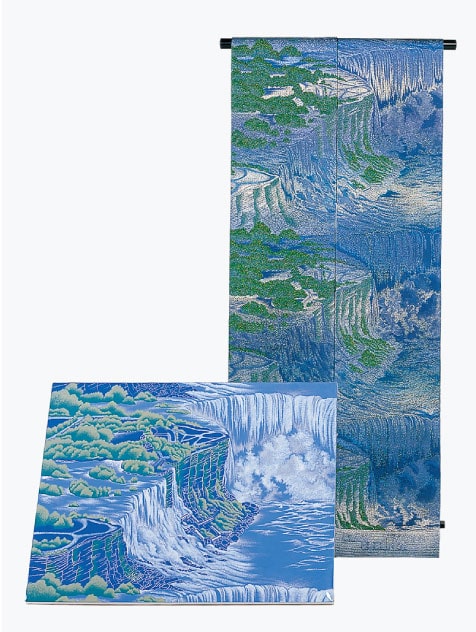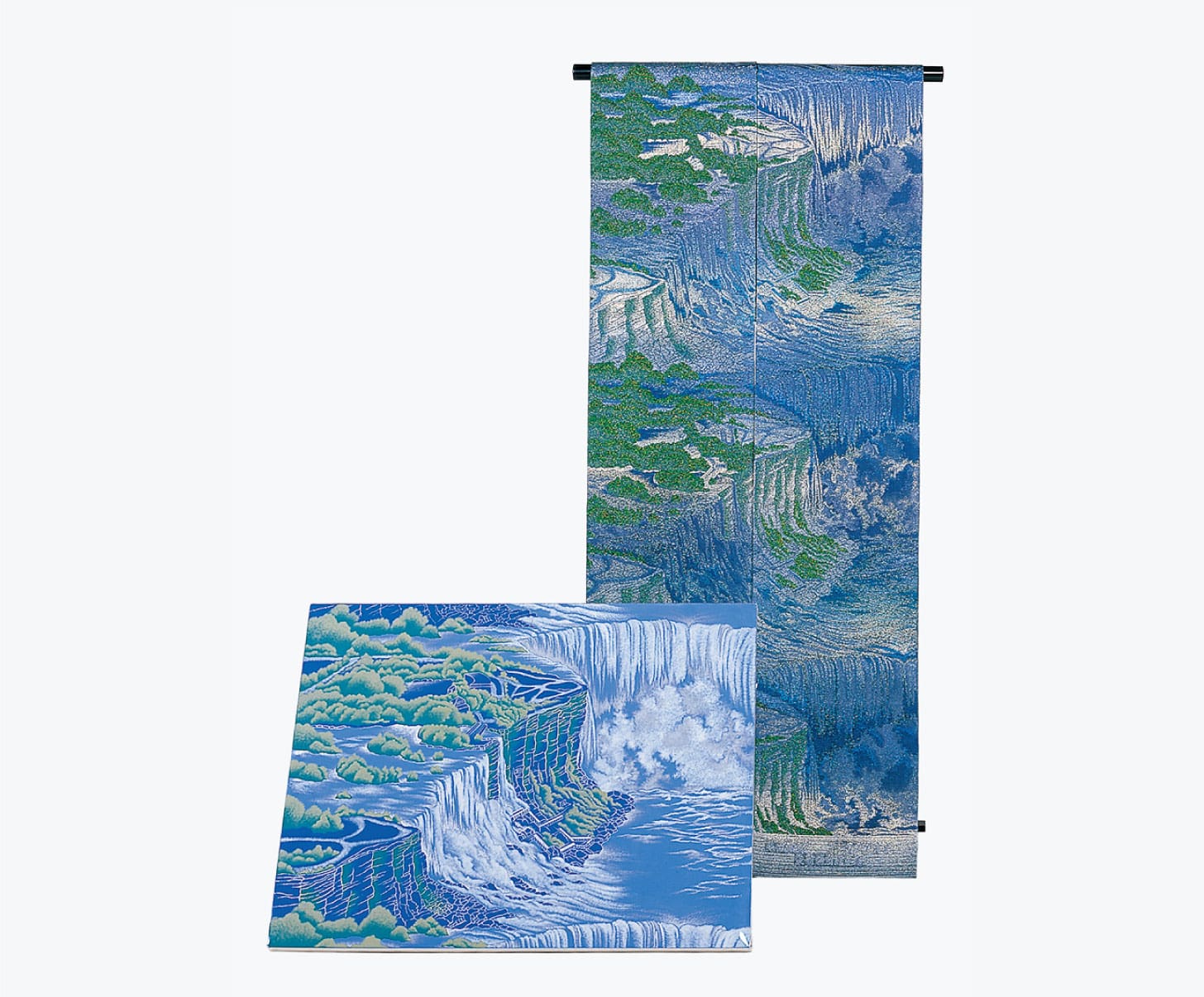 A Weaving Technique That Can Embed Hidden Patterns
Further developing this detailed representation, Ikeguchi developed techniques to conceal textile patterns. This was brought about when he wondered how to capture the gravel on the sandy soil of a pond and underwater. Ikeguchi took a hint from an experience of the Taisho period painter Heihachiro Fukuda who realized colors differ depending on the distance from the water surface by raising and lowering his feet in the bath and used it in his representation of a koi carp. In the same way, Ikeguchi found a new technique while in the bath in which the gravel underwater appears and disappears depending on the angle in which it's viewed by depicting the gravel outside the water in detail, while the gravel underwater is "blurred," thereby enhancing realism.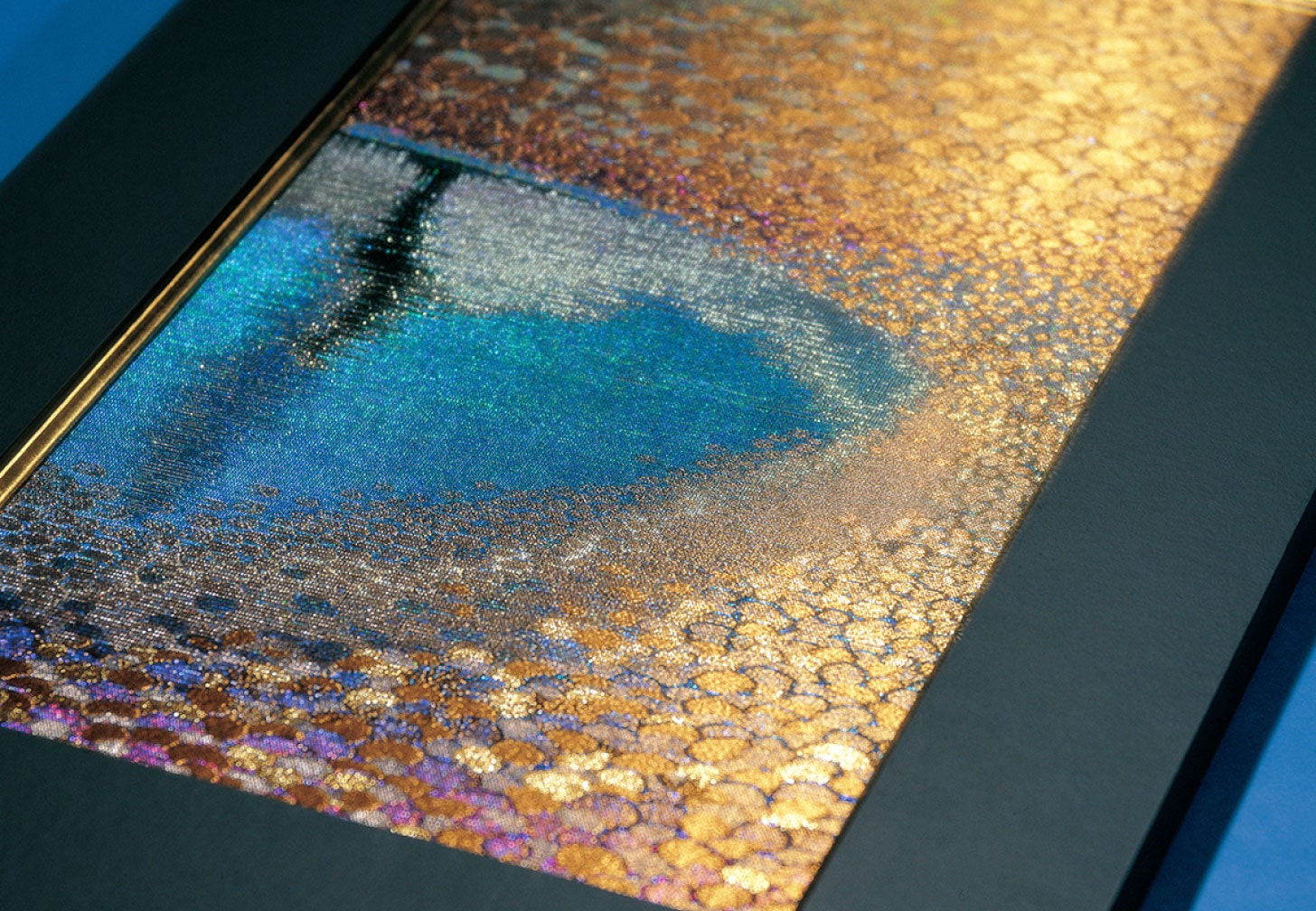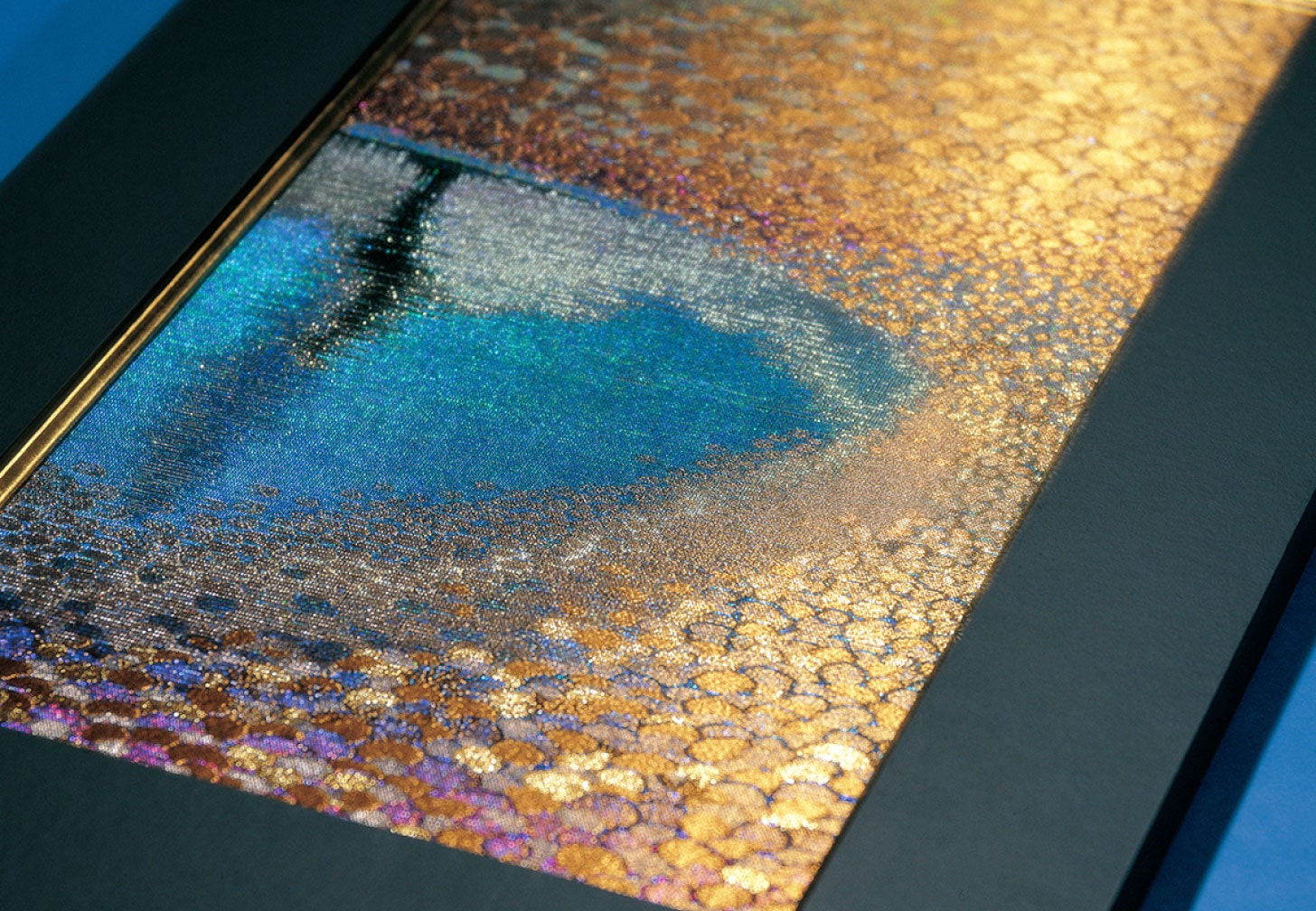 40 years have passed since Sahari Tsuzure Brocade was born. Since then, we've listened to our customers and made various adjustments to our products.
Sahari Travel Series

(An obi you can easily wear while traveling)

A customer once asked, "Isn't there any obi that you can put on quickly when there is no mirror while traveling?" So we developed a light, easy-to-tie obi that can be rolled to carry and can be worn with any kimono pattern. This fukuro obi (double-woven obi) features a 4,600 warp count (2,300 on top, 2,300 on bottom woven together), so there is no need for thick obi padding. This fukuro obi weighs 450 grams and is popular for its light weight and easy-to-tie design.

Sahari All-Season Series

(An obi that can be worn all-year round)

From a request to make a non-see-through summer obi, we developed techniques to make an obi where the front is matched with awase (lined kimono), wearable in the spring, fall, and winter, while the reverse features materials such as mesh, common for summer obi.

Sahari Reversable Series

(Obi to Last a Lifetime)

This obi was developed from a request by a customer in their 80s: "When we turn our tatami at home over, it looks new again. Isn't it possible to make an obi that does the same?" With normal obi, the weft of the inner side of the obi is stretched around so the inner side could not be turned into the front. However, we have developed a weaving technique whereby the threads on the reverse side do not cross, allowing you to use both sides of the obi by reversing front-and-back to have it as good as new. In order to weave both front and reverse sides carefully, double the amount of time is required, but customers are pleased with an obi that can used for a lifetime.