Made-to-Order / Obi Maintenance / Appraisal of Authenticity
Made-to-Order
(For business clients)
Sahari Tsuzure Brocades, which give a fine sparkle even in low lighting, are very effective for interior decoration such as wallpaper, furniture, and lighting of elegant spaces. Unlike existing fabrics that are limited to 2-dimensional designs, Sahari Tsuzure Brocade can express realistic motifs thus we can produce made-to-order designs that reflect the concept of the commercial space such as hotels and restaurants. Please feel free to contact us for a consultation. (As a general rule, made-to-order services are limited to business clients.)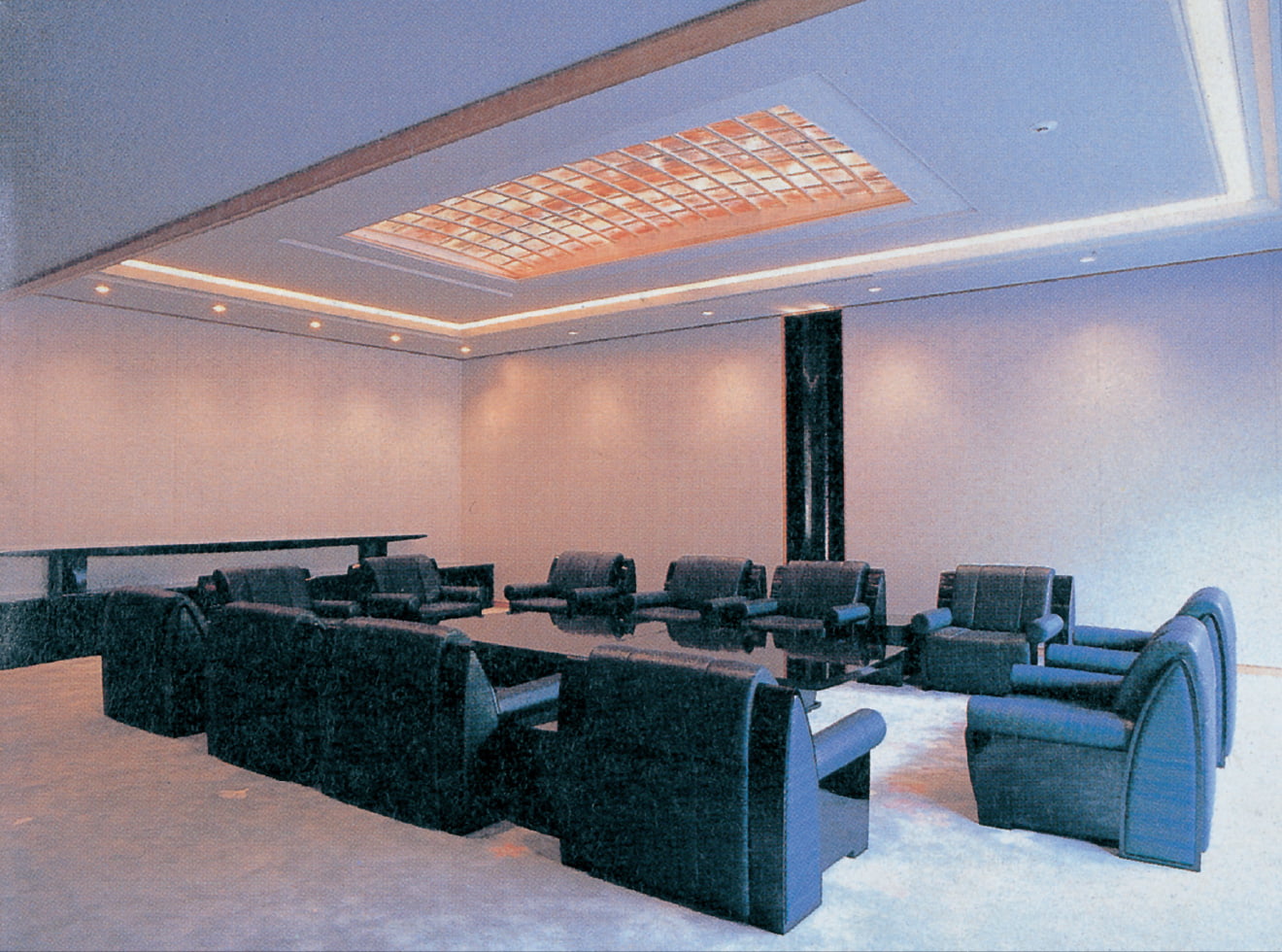 Obi Maintenance
(For individual clients)
We provide maintenance and repair for obi for many years of use. Our specialized artisans can repair wrinkles or stains from long periods of non-use or concerning creases from wear. Please do not hesitate to contact us via the contact form on our website.
Main Flow for the Maintenance
Customer
1.Contact us via the contact form on our website with close-up image of the area to be repaired.
3.Please send the item to Sahari.
Sahari
2.We will check the rough availability of the repair and reply to you.
4.After the product arrives, we will contact you by e-mail with the exact repair details, delivery date, and estimated costs.
※

Depending on the condition, there is a possibility that the item cannot be repaired.
Press treatment, overall inspection, thread correction, etc.
(Duration: approx. 2 weeks / fee: 10,000 yen excluding tax)
Restoration treatment (in severe cases of creasing, etc.)
(Duration: approx. 1 month / fee: 30,000 yen excluding tax)
Full-scale tailoring, including core replacement
(Duration: approx. 3 weeks / fee: 10,000 yen excluding tax)
Repair
5.We will send the item back to you by Yamato Transport courier. Please pay the fee by Yamato's cash on delivery service.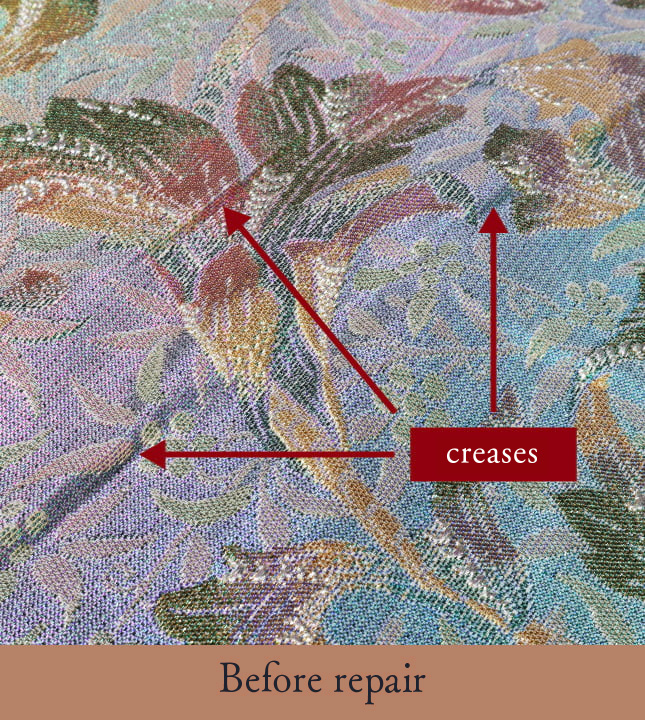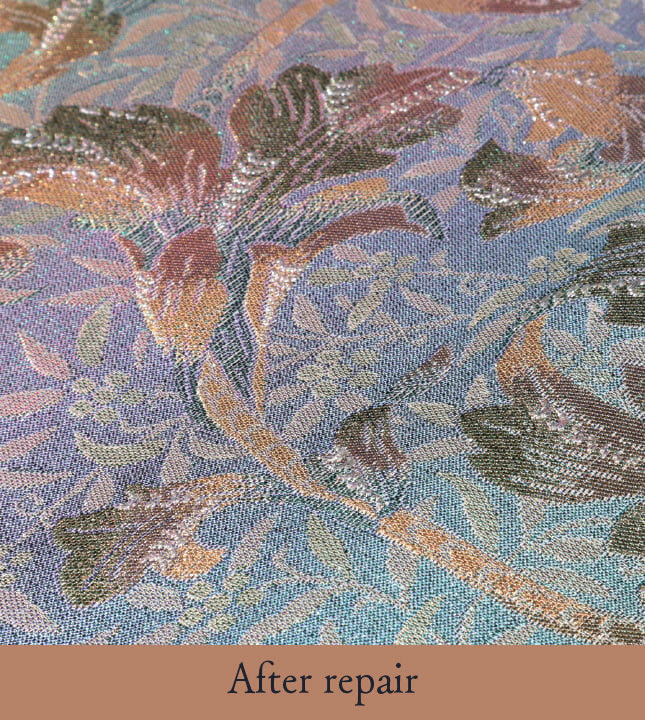 Appraisal of Authenticity
Using misleading phrases such as "Sahari Tsuzure-fu (= in the style of Sahari)" or "Sahari Tsuzure-cho (= arranged in Sahari style), " there are fake goods sold as Sahari Tsuzure Brocade. Even though legal papers were sent to these vendors, there is a chance that some may still be on the market, so please use caution.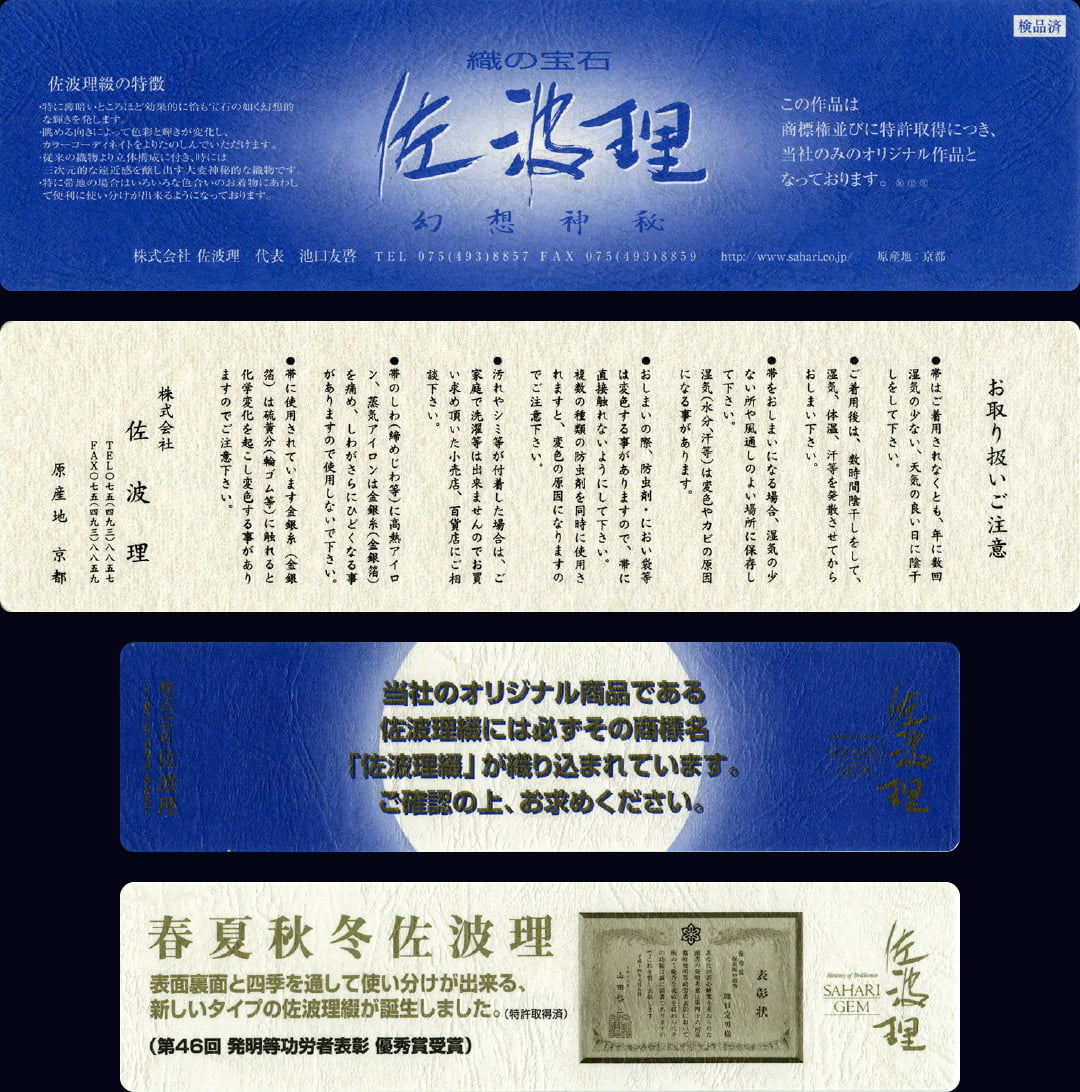 We accept an appraisal of authenticity free of charge.
How to request an appraisal of authenticity:
Please fill the following information below in the contact form on our website.
1.

Subject (please fill in as "Appraisal of authenticity")

2.

Full name

3.

E-mail address

4.

Country and city of residence

5.

Inquiry description

6.

Please include the following three photos for appraisal:

Entire product image (In case of obi, 6 or 8 folds is sufficient)
Close-up image of outer and lining material
Image of woven brand label